At a time when our church seems more polarized than ever and many Catholics feel disconnected from parish life due to the pandemic, Catherine Upchurch offers a positive perspective on the beauty of our Catholic faith and the strength we can draw from it.


Why do I choose to be a member of the Catholic Church? It's a good question, one that came from a man I met briefly a few years ago through the RCIA process. Easter was approaching, and his sponsor reached out to me on his behalf to pose this question. It was during a time when more scandal was seeping through the rather wide cracks in our church, when many were asking the same question of themselves and each other. I wrote him a response that I revisit often, and I'd like to share it with you.
First of all, I was born and raised in a faith-filled Catholic family and lived in a predominately Catholic neighborhood. So Catholicism is part of my religious DNA, if you will. Now that doesn't mean that our experience of Catholicism was perfect or life-giving at every turn. We had some wonderful priests and nuns who taught us, but we had our share of poorly trained or even mean-spirited ones too. I learned early on not to throw the baby out with the bath water. Our family prayed together and engaged in Catholic rituals at home (praying the rosary, crowning Mary, reenacting the Christmas scene, talking about our faith). We also fought and had typical family dysfunctions. But I could see in my parents and in the parents of my neighbors that they were true to the Catholic tradition because it helped them to meet Jesus. That became true for me also.
I discovered early on in my Catholic life a sense of belonging that I believe is vital to being a disciple of Jesus Christ. We simply cannot do this business of following him all alone in the world. That community, as imperfect as it is, helps to shape us and helps to shape our view of the world, of God, of service, of love and forgiveness, of truth.
I also discovered (and continually rediscover) a sacramental sensibility that I do not believe can be found as easily outside of Catholicism. What I mean by that is not just celebrating seven sacraments as signs of grace, but because of those moments of grace, discovering God's presence throughout the daily events of life. A sacramental sensibility helps us to perceive God's presence in shared meals with others (celebrated in an ultimate way in our shared meal of the Mass). In simple uses of light and oil, I continually rediscover the power of the light of Christ and the oil of anointing at baptism, confirmation, and anointing of the sick. When I have been forgiven or am asked to forgive others, I tap into those moments of reconciliation celebrated throughout my life as a Catholic. I'm not sure that I'm expressing this well—but as a Catholic I believe I have a better ability to see God at work in the natural world as well as in the supernatural world.
Sometimes my church disappoints me—in big ways such as the pedophilia crisis and cover-up, or in smaller ways when I find a pastor being petty or when I feel we are not as welcoming as we need to be—but I am convinced that God works directly through the cracks in our armor so to speak. Those reminders of our humanity are also signs that without God's presence and forgiveness and justice, we might never have the positive influence we have in the world either. Almost every city around the world has benefited from some Catholic contribution to the community—hospitals and free clinics, schools, food banks, immigration and refugee services, reading programs for the illiterate, job training—the list goes on.
Why am I Catholic? I am Catholic because I need the challenge of our church's social teaching, the beauty of our liturgy, the strength of our numbers, the witness of our martyrs, the prayers of my brothers and sisters, the full access to Christ in word and sacrament, the grace of our sacraments, the truth of our sacred writings found in the Bible and in the faithful tradition that continues to unfold. I am Catholic because I meet Christ and grow daily in love with him within this community of faith.
Catherine (Cackie) Upchurch served for many years as the director of Little Rock Scripture Study and is the general editor of the Little Rock Catholic Study Bible. She is the author of several books in our Alive in the Word series, including Mary, Moses, and Christmas. Cackie is a lifelong student of Scripture, a retreat director, writer, and teacher.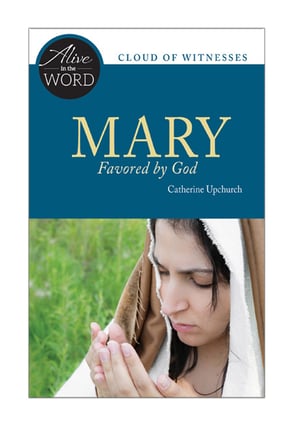 Enjoy Cackie's book, Mary: Favored by God—perfect for the month of May! This slim volume is an excellent resource for small group faith-sharing (in person or online) or for individual reflection. Learn what Scripture tells us about Mary and how her life can inspire our own.