As November unfolds, Dr. Dorothy Mensah-Aggrey offers food for thought about biblical gratitude and how to be intentional about thanking God and others.
I will give thanks to the Lord with my whole heart;
I will tell of all your wonderful deeds.
—Psalm 9:1
The verse above from Psalm 9 is one of my favorites. In fact, I once looked up fifty-four different translations of it! In every case it is clear that the psalmist is praising God out of his own free volition, from the bottom of his heart. What is the reason for this gratitude?
The concept of gratitude
In 1 Samuel 7:7-17, the Israelites led by Samuel acknowledged the hand of God in their victory over the Philistines by erecting a stone between Mizpah and Jeshanah. "As far as this place the Lord has been our help" were Samuel's words. These were words of gratitude, admitting the fact that they would not have made it by themselves.
Gratitude is the desire to declare appreciation and stems from the Latin word gratus, which means pleasing, agreeable, thankful. After several etymological iterations, the common phrase "Thank you" has become an acceptable form of the expression "I thank you."
Why express gratitude?
In Scripture, people offer gratitude to God for various reasons, especially for protection and provision. We read about such instances throughout the Bible, but the psalms and Paul's letters offer us abundant examples. In the psalms, you might wish to look up the following and pray with or meditate on them: Psalm 7:17 (gratitude for God's justice/righteousness); 34:2 (blessing God at all times); 66:8-9 (people singing God's praises for keeping them alive); 105:1-3 (giving thanks for God's great deeds); 117 (thankful for God's faithfulness); 118:1 and 136 (gratitude for God's mercy which endures forever).
In Paul's letters, the following examples offer food for thought: 1 Corinthians 15:57 (gratitude for victory in Christ); 2 Corinthians 9:15 (thanking God for his gifts); Ephesians 1:3 (thankful for God's blessings); Colossians 4:2 (pray with thanksgiving); 1 Thessalonians 5:18 (give thanks in all circumstances). Of course there are many more!
Cultivating gratitude
The story of the ten lepers and Jesus' question to the grateful one prompts us to reflect further on the need for expressing gratitude (Luke 17:11-19). Have you ever wondered why Jesus asked where the other nine healed men were, and why only one had returned to thank him?
Here is my take—expressing gratitude to a person for a gift (no matter the shape or form) is to acknowledge, by extension, the personhood of the gifter. The lone leper who returned to thank Christ for his healing showed that he recognized who Christ is—sovereign, powerful, kind. Sovereign, because he had power over all created things; powerful because he could command an illness such as leprosy to depart from someone; and kind because he healed them freely, without any exchange of goods.
So how do we acknowledge Christ for his passion and resurrection from which we benefit? How can we express gratitude to the people in our lives? How do we cultivate gratitude?
Consider the following exercise in prayerful gratitude:
Each day, write down the name of one person for whom you are grateful. Just start with one.

Write down what you are grateful for (something specific in reference to this person—it could be something about them or something they have done for you).

Write down how you would express gratitude to this person if you have not already done so.

Make a concerted effort to meet with or reach out to this person and express your appreciation.

After that encounter, note how you feel. I can assure you 99.9% that your heart will well up with more sentiments of gratitude toward God and others!
Of course, you can carry this exercise into prayer as a way of thanking God for specific gifts as well. You will notice that you will want to do this exercise all over again. That, I believe, was the situation of the psalmist and St. Paul as they continuously expressed gratitude to God.
Gratitude matters! Let's live it!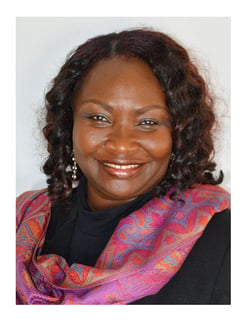 Dr. Dorothy Mensah-Aggrey was born and raised in Ghana, West Africa, and has over thirty-five years of experience in music, theology, and education. She has a B. Mus., M.A. in Theology, Ph.D. in Education, and is a Certified Online Programmer. She currently works at the University of Dayton's Institute for Pastoral Initiatives as a Curriculum Design Specialist and Adult Faith Formation Coordinator. Dorothy has traveled and worked extensively throughout Africa, Asia, Central America, Europe, and the United States. She recently launched a YouTube channel, Whispers of Love: Praying with Poetry and has published a book on gratitude entitled Thank You! I'll Say It Again.