This time of pandemic invites us to reflect upon the fact that in the Eucharist we desire not just Christ but each other.


For most of us, Mass has been different lately, to say the least. Awkward, sanitized, masked, careful, or virtual—comforting and uncomfortable—a religious experience of mixed emotions. Mass this past year, in whatever form we have experienced it, has offered moments of pure gratitude and solace but also sometimes sadness. We should just be honest about that; it's not unfaithful to acknowledge the strangeness of it all.
How do we make sense of this strange, sometimes strained, religious experience? Can Scripture help us? Through Scripture, can we hope, pray, and work our way through our experience of celebrating (or not celebrating) the Eucharist during this pandemic?
I think so. I have been comforted by Paul, especially his words to the Corinthians. Although for quite different reasons, the Eucharist celebrated at Corinth was strange too. You see, the Corinthians had difficulty gathering as well—not because of a pandemic—but because they had let their social divisions disfigure their celebration. At Corinth, rich members of the community ate before poor members. They began the Eucharist without them. For Paul, this was antithetical to any celebration of the Eucharist, and it's why he told them to "wait for one another" (1 Cor. 11:33). To celebrate the Eucharist without the other members of the body present was to contradict what the Eucharist must always signify: the unity of the ecclesial body. Paul's constant message to the Corinthians was that "there should be no divisions among you" (1 Cor 1:10), a message that applied to the celebration of the Eucharist as much as anything else.
How do Paul's words help us reflect upon our own experience? Paul reminds us that the Eucharist is never an individual affair; rather, the Eucharist is communion, with God and with each other. Just as Paul exhorted the Corinthians to "wait for one another," so, in a sense, should we. Undoubtedly, our circumstances are different. Most of us do not belong to small house churches but to large parishes. Waiting for one another isn't as easy as it was in Corinth! Yet, the ecclesial reality and goal of the Eucharist remains the same. For us too there should be "no divisions."
This time of pandemic invites us to reflect upon the fact that in the Eucharist we desire not just Christ but each other. For those who are physically at Mass, there is the emptiness of every other pew. For those who are at home, Sunday morning looks and feels different than it did before. The pain we feel here is ecclesial; it hurts not to worship with others.
And, of course, it's not just the pandemic that causes this pain. Racial injustice and division, economic injustice, politicized polarization: these too cause us to feel the pain of a divided ecclesial body, even at the Eucharist. In a way, we are little different than Corinth. We too, in many ways, must learn again to "wait for one another."
For now, this pain we feel can be turned into prayer and action. We can still reach out to each other, expressing our unity—our communion—in other ways, until we can all gather again at our parish altars. We can wait for one another in prayer and spirit, desiring the Eucharist together, until the Lord comes again (1 Cor 11:26).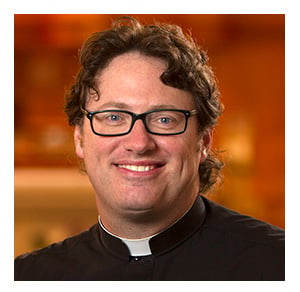 Joshua J. Whitfield is a priest of the Diocese of Dallas. Whitfield is a contributor to the Dallas Morning News and was nominated for a Pulitzer Prize for commentary in 2016. He is the author of Eucharist, Bread of Life (Little Rock Scripture Study) and The Crisis of Bad Preaching (Ave Maria Press).
Order Fr. Josh's new book on the Eucharist!
Great for individual reflection or small group faith-sharing.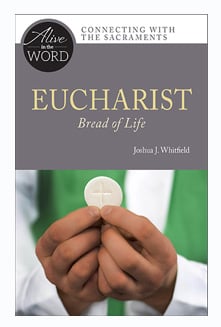 Fr. Josh writes, "I was thrilled to contribute to the Alive in the Word series from Little Rock Scripture Study, and honored to write on the Eucharist. I wanted to share some passages from the Bible that helped me fall in love with the Eucharist, that were meaningful for my own faith journey. Exploring the book of Exodus, I learned how our covenanting God fed his people in the desert and how in that meal some even saw God. In John's Gospel, I learned how the bread Jesus offers is really his flesh, given to us for life and eternal life. And in 1 Corinthians, I learned what it means to celebrate the Eucharist as the church, as brothers and sisters willing to 'wait for one another,' loving each other, caring for each other, and worshipping in unity. These passages have spoken to me so often in my walk with Christ, and so I wanted to share them with you. I hope this small study helps you deepen your love for the Eucharist. That's why I wrote it: to share that eucharistic joy that is now so central to my life as a believer.
Read more on Fr. Josh's website.
Order Eucharist, Bread of Life at LittleRockscripture.org.