This Christmas won't be like other Christmases.
Now, more than ever, we hope in the promises of God.


To say that we might be in for something a little different this Christmas is like Noah predicting that his neighbors might be in for a little rain. Our world is in such turmoil right now: still in the throes of a global pandemic, caught between presidential terms, and continuing to reel from protests, violence, and uncertainty. How will Christmas come this year? How will we sing Joy to the World and Silent Night when joy seems so hard to come by and when the words "all is calm, all is bright" feel so inauthentic?
Consider for a moment the actual event of Christmas night in Israel when Jesus the Christ was born. Consider it from Mary's point of view: birthing the Son of God into squalor, danger, filth, and flight. Consider it from Joseph's point of view: unable to provide shelter, safety, or security for his wife and son. Consider it from the magi's point of view: a king born in a stable, a messiah disguised in infancy, a God clothed with human skin. Consider it from the shepherds' point of view: angelic messages in the middle of the night, a poor family gathered around a cattle trough, and words of deliverance that seemed incomprehensible.
The first Christmas night cannot be described solely by the words "calm and bright." The joy that came into the world was likely felt more keenly in hindsight than in those initial moments in the stable. The first Christmas night held more than its fair share of uncertainty, insufficiency, discord, and doubt. But it also held promise—and it is that promise that made all the difference.
Indeed it would be three long decades before Jesus would enter into public ministry. For thirty years, Mary and Joseph, magi and shepherds, all held onto the belief that the child born that starry night would fulfill what God had promised to his people for all time. They believed—because by all human estimation, Jesus seemed to be just a carpenter from Nazareth. The promise held, but it had not yet been completely fulfilled.
A vigil kept for the fulfillment of God's promises can last a long time, and it is often peppered with both certainty and doubt, hope and fear.
And so we wait. Right now, this Christmas, we still await the fulfillment of all that God has promised. God has promised to be with us always, even until the end of time, as Emmanuel, God-with-us (Matt 1:23; 28:20). God has promised that the light will always pierce the darkness, and the darkness will never overcome it (John 1:5). God has promised that the wolf and the lamb shall coexist peacefully (Isa 11:6). When, O Lord? When shall our hope be vindicated and our trust in you rewarded? We look around, and there is much darkness, there are many wolves, and your absence sometimes feels more real than your presence. When, O Lord, will you come?
We cry out in these days leading to Christmas: Come, O Lord, and set us free! Come, Lord Jesus, come!
Yes, we would like the fulfillment of God's promise to happen now, in 2020. But if wars do not immediately cease, disease completely disappear, and worry completely evaporate, let us continue to cling to God's promise, knowing that fulfillment will ultimately come. And let us pray: Lord, renew your promise and help us to remain steadfast in awaiting its fulfillment.
This year as we hum the lyrics of Silent Night—"Christ the Savior is born"—let us hear echoed through its refrain: "I have promised, and I will do it, says the Lord" (Ezek 37:14).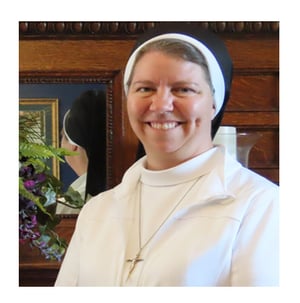 Sr. Virginia Herbers, ASCJ, is an Apostle of the Sacred Heart of Jesus, a columnist for the Global Sisters Report, and the author of Forgiveness, Choosing to Receive and to Give from Little Rock Scripture Study's Alive in the Word series. She is currently on sabbatical in St. Louis and serves as a retreat director and spiritual director.