The Gospel of Mark will be proclaimed at Sunday Masses in the coming liturgical year. What will we hear? Who will we see?


How many times have you frantically searched high and low for something only to find it right in front of you? It was there all along, but your mind did not perceive it. Or have there been times when you did not comprehend the meaning of sounds even though the words were clearly spoken? Just so, perceiving the reality of Jesus as the Son of God by "looking" and "listening" is a primary message of the Gospel of Mark.
The gospel shouts the Good News that the kingdom of God is in us and within our reach because God is with us in Jesus, God's Son and the Christ, who always was and always will be. Yes, the message is "shouted" in this gospel! Mark speaks the Good News loudly and clearly—if we will clear our minds enough to look at, listen to, and trust in the reality of his message.
The clarity of this Gospel message begins and ends the book. The gospel opens with John's announcement to prepare the way of the Lord and with the words from heaven: "You are my beloved Son, with you I am well pleased" (1:11). It ends soon after the recognition of Jesus' true identity by the centurion who oversees his execution: "Truly this man was the Son of God" (15:39).
In between these clarion calls of John the Baptist and the Roman soldier, Jesus is recognized by demons (1:34; 5:7), and the transfiguration allows three of the disciples to get a blurry glance at his glory—but Jesus tells them not to tell anyone (9:9)! Why? Perhaps Jesus did not want people to take a shortcut to belief. Perhaps he wanted to demonstrate that the way to come into true relationship with God is to follow his example and to come to understanding through action.
How does Mark teach us to open our eyes to Jesus as the Son of God? In his message of Good News, Mark describes Christ teaching us through service of others—especially service of those who suffer what we call "poverty": a loss of health, an inability to see or hear, a devastating mental disease, status as a social outcast—any number of conditions that control the lives of the poor and leave them enmeshed in a debilitating lack of freedom.
Throughout Mark's gospel, Jesus serves and assists those who are poor. He heals the sick and responds to those who are in pain: those who are outcast, hungry, lame, and desperate, those who have nowhere else to turn. The most common stories are those where Jesus removes blindness and deafness and allows people to see for the first time, to hear for the first time, or to speak clearly for the first time.
When those trapped in poverty are served, they receive the opportunity to worry less about their daily needs and to see the potential for a better life, to touch more than the barriers that hold them, to hear more than their own sorrow, and to reach for more than daily survival. And service of those in poverty does even more for those who have the privilege to offer that service—it opens our ears and our eyes to the presence of God in our everyday reality, and it increases our awareness that the kingdom of God is growing around us and through us.
The metaphor "to look and listen" is a key message in Mark. It is all but impossible to "look and listen" when the pictures and sounds in our brains are all about ourselves—our fears, our wealth, our skills, and our wants. When we allow these thoughts to dominate our attention, we cannot see or hear what is right in front of us—not even when it is God, not even when it is Good News. Service of those in need teaches us to see the realities right in front of us and to listen for the messages of God in our everyday lives. Service is a pathway to fullness of life.
Now you would think that God would know enough to choose the "best possible candidates" to learn his lessons and efficiently bring the kingdom to earth! But no—instead Jesus picked a bunch of ordinary people to be with him on his journey. He chose folks like you and me: hard workers with lots of faults and not much influence in the world, disciples who are slow to get the lesson but willing to try.
In the Gospel of Mark, Jesus called those who were willing to drop everything that was "home" to them, asking them to gradually open their hearts to a new vision and new voices, asking them to do this through service of the poor. And now he calls you and me.
Listen! Nothing is hidden! (4:22-23)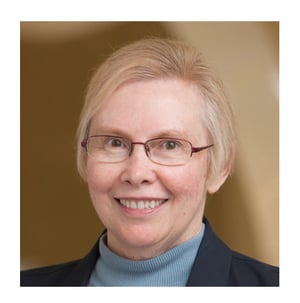 Sr. Mary Louise Stubbs is a member of the Daughters of Charity, a congregation of sisters dedicated to the service of those in poverty. She has served in ministries of healthcare, community programming, Catholic Charities, and board leadership. She currently serves as the executive director of Daughters of Charity International Project Services finding resources for sisters' ministries in low-resourced countries (www.daughtersips.org). Sr. Mary Louise is a lecturer for Little Rock Scripture Study's The Gospel According to Mark, Part One.
Image at top: Healing of Peter's Mother in Law, Rembrandt (1660)