Author's Note: When I wrote this article, we were not yet in quarantine. We were going about our busy lives, perhaps not making as much time for prayer as we desired. Today, things have changed for many of us—we may have more time for prayer! This may be a silver lining to the tragedy of the Coronavirus pandemic. I hope this article will be especially meaningful for you during this time.
One thing we often crave is quiet time spent with the Lord. We have good intentions to devote more time to prayer in every season: New Year's resolutions, Lenten practices, summer outdoor time, or fall by the fire. God's Word breathes into us whether we're quiet and alone, or when we are with others. Are we listening?
Look at the movements of Jesus. He was often surrounded by those who were drawn to him, but he still made time to go away by himself and pray. In Matthew 14:23, for example, we read: "[A]fter he had dismissed the crowds, he went up the mountain by himself to pray" (see also Mark 1:35; Luke 5:16).
When we read that Jesus taught with nature parables, I imagine him observing how nature gives us perfect lessons (e.g., flowers in Matt 6:28; seeds, soil, weeds, and wheat in Matt 13). He likely formed these teachings while listening to his Father during quiet prayer time as well as while spending time in the company of his friends. I picture him walking with his disciples near plants springing up from different kinds of soil, teaching about the kingdom from what was in front of their very eyes. We can learn from Jesus how to be constantly aware—and thus prayerful—every day.
Awareness is key to unlocking the messages that are so often offered to us in the ordinary. Recently, for example, while on a silent retreat, I watched a ladybug crawling along a window ledge. I marveled at this tiny, perfectly-made creature, going about her business in search of whatever it is that ladybugs seek. God created her and cares for her! Sharing space in the presence of this small insect reminded me of Matthew 6:26: "Look at the birds of the air; they neither sow nor reap nor gather into barns, and yet your heavenly Father feeds them. Are you not of more value than they?" Our heavenly Father watches over all of his creations! That's a prayerful lesson, inviting us into the message that we are deeply loved.
These moments of awareness beckon us to spontaneous prayer. We don't need to wait for what we think is the perfect time or setting—God provides! It may help to write about these experiences, drawing us more deeply into "prayer from God's end," as I call it. Two examples from my prayer journal follow.
Observing the full moon one evening as I drove across a river, I looked for the moonbeam's reflection on the water. As I inched across the bridge, I saw only patches of reflected light here and there. Still, it brought joy to my heart. As I came to the end of the bridge, I saw the patches join together to form a path of light across the water! And I prayed, "Lord, I see that we are each called to reflect your light in the world, sometimes only in patches. When we join together, we make a path of light leading to you. Keep shining on me!"
A few years ago, I picked up my son from college at the end of the semester. The students had to clear their belongings out of their dorm rooms for the summer. There were only two elevators to carry students, relatives, computers, TVs, suitcases, boxes, and carts. I was struck by the patience, friendliness, and diversity of the students: boys, girls, black, white, Asian, with nose piercings, without piercings, and so on. I imagined that if each of us were to meet elsewhere, we may overlook or even feel disconnected from one another. In the community spirit of the hallway and elevator, however, we were for a brief moment "family." I prayed, "Lord, may your family be my family. May I always appreciate you in others, and may I often experience such elevator moments."
We may not always be able to go up a mountain or kneel in a church to pray, but we can listen to God speaking to us all day long in the moments he sends. And that is a most beautiful form of prayer. Breathe in God's Spirit, and listen to God speaking to you on your mountain, wherever it may be!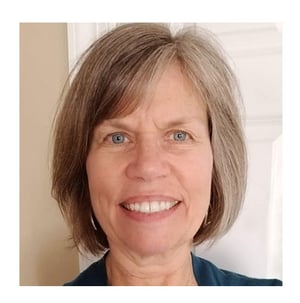 Christina M. Delaney lives near Annapolis, Maryland, where she is learning how to live as a bereaved parent, but still finds joy in awareness, Scripture, and spending time with her husband, surviving children, and grand-twins. Tina is a long-time Bible study facilitator at her home parish of Holy Family in Davidsonville, Maryland. Her blog can be found at ponderingchrist.org.