I recall being at a friend's house when we were about eleven or twelve years old. We were upset about some issue that at the time seemed monumental. The fact that I cannot recall the topic tells me, in retrospect, how insignificant it might have been! In any event, with our hands on our hips, we informed my friend's mother: "We're revolting!" to which she cleverly replied: "You certainly are!"
This early episode helped me understand how words can take on different meanings depending on context and tone. The words revolt and revolution contain layers of meaning, many of them exemplified in the life and words of Mary, mother of Jesus.
Of course, we might associate a revolt or revolution with a violent overthrow of governmental or financial institutions. Violence, however, is not essential to revolt. Many "revolutionary" figures in recent history have been effectively and powerfully non-violent — Mahatma Gandhi, Nelson Mandela, Martin Luther King, Jr., Aung San Suu Kyi, Archbishop Oscar Romero, and Malala Yousafzai, just to name a few.
While revolution is not necessarily violent, it is radical. The kingdom of God, preached and embodied by Jesus, offers a radical departure from the dominant worldview that Jesus' contemporaries would have recognized, and the worldview that we recognize as well. Political power, societal status, violence, and even clamoring for wealth are the antitheses of God's kingdom. Long before we hear society's values challenged by Jesus, we hear the news of this radical kingdom from his mother, Mary of Nazareth.
The Canticle of Mary (Luke 1:46-55; also known as the Magnificat) is a prayer of revolution, of upending the expected, of acclaiming the God who embraces poverty and humility rather than power and pride. Mary praises God who disperses "the arrogant of mind and heart," who "throws down rulers from their thrones," and who sends the rich away empty. She announces the eternal mercy of God, who lifts up the lowly, and fills the hungry with good things. Her prayer announces a revolution that transforms society and all creation.
Mary says "yes" to God when she is a young maiden from a small village of little consequence in the large Roman Empire. Her joyful participation in God's unfolding plan for history transforms her into a revolutionary. In raising her son, she and Joseph no doubt fill Jesus with the stories of their people. They surely share words of the ancient prophets who railed against the sins of hypocrisy, neglect of the poor, worship of alien gods, and values that were more in line with empire-building than with God's covenant. Mary, the revolutionary, invites us to join her son in rejecting whatever stands in the way of embracing the kingdom of God.
Revolution is also a term used to describe the act of rotating around a fixed center, as the planets in our solar system revolve or orbit around the sun. The words of Mary's Magnificat show us that Mary is revolutionary in this sense as well. Her prayer begins with a sense of wonder that God is so active in her life: "For he has looked upon his handmaid's lowliness; behold, from now on will all ages call me blessed. The Mighty One has done great things for me . . ." (Luke 1:48-49).
But Mary does not remain centered on herself; her prayer shifts to how God acts in the world. As Mary focuses outward to the poor and the hungry, she remains centered around God's indwelling presence in her life, and in the lives of all around her. In doing so, she invites us to also revolve around the true center of our lives: God, fully manifest in his son, Jesus.
If we reflect on the Magnificat, which I especially encourage in this month of May that is dedicated to the Blessed Mother, if we pray it daily with real attention to these sacred words and the realities of our world, we may just find that we are being swept up into the revolutionary kingdom of God. We may find our appreciation of Mary being shaped by her courage and her dedication to God's vision. We may find our worldview shifting and our values being fine-tuned. We may join this holy revolution.
Click here to read and meditate on the Magnificat.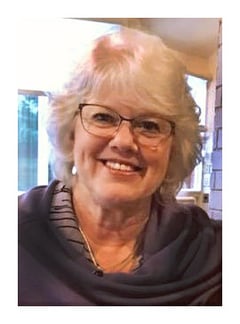 Cackie Upchurch is the former director of Little Rock Scripture Study and the general editor of the Little Rock Catholic Study Bible. Cackie speaks and writes regularly on a variety of biblical and spiritual topics. She is the author of several books in our Alive in the Word series, including Mary: Favored by God and Hospitality: Welcoming the Stranger.