Many people see the beginning of the calendar year as the right time to take stock of their lives, but for me, Lent long ago replaced New Year's Day as the best possible time to review the previous twelve months and rededicate myself to being a more faithful Christian going forward. As I get older, however, I'm finding that the process of repentance, which lies at the very heart of the Lenten experience, grows more difficult with each passing year. Not that I have the slightest trouble recognizing and owning my sins; quite the contrary, the problem is that I recall them all too well! It's disconcerting (and humbling) each year to face all the ways I've failed to be a worthy follower of Jesus, and it's very easy to become disheartened by my apparent lack of spiritual progress. But if I find myself brooding over my past faults, I remind myself that scripture provides a striking example of the dangers of looking backwards that should not be ignored: in other words, I think of Lot's wife.
Lot's wife is an enigmatic character, to be sure. She isn't even given a proper name in the biblical narrative, although later rabbinic commentators provided her with one (Edith). What's more, Lot's wife actually figures very little in the story of her husband's fortunes: she's not mentioned in the description of his trip with his uncle Abraham from Ur into Canaan, nor in his parting with Abraham at Bethel, nor even in the reception he gives to the angelic visitors right before the destruction of Sodom and Gomorrah. It is only in her final flight from the doomed city that Lot's wife takes center stage (Gen 19), and then it is merely so we can witness her brief—but spectacular—fall as she neglects the angels' command not to look back while her family flees for their lives. Her punishment for this offense is, famously, to be turned into a pillar of salt, but the motivation that makes Lot's wife turn back toward Sodom in the first place is, perhaps the most mysterious element of all in her story.
Why did Lot's wife look backwards? Various explanations for her behavior have been offered. Most of these conjectures are rather harsh on Lot's wife and conclude that her turning back to look at the devastation of Sodom may be one indication among many that her sympathies are not with God but with the wicked inhabitants of the cities he has marked for destruction. Still other commentators, taking a more compassionate view, see in that backward glance not a sign of regret for the passing of a vicious way of life but a gesture of remorse: an expression of sorrow arising from a remembrance of lost family and friends.
Either way, the lesson to be drawn from the episode remains the same: Lot's wife loses her chance of salvation because she is too preoccupied with what is behind her. The application of this lesson to our acts of repentance today is clear. Contrition for our sins requires us both to admit our faults and to repudiate them. To examine our consciences necessarily requires us to look backward to the past, and the genuine sense of guilt and regret we feel is a normal part of the process. But there is also a danger that the remorse we feel can exercise a subtle tyranny over our hearts and minds. We can be so overcome by the wrongs we have done in the past that we lose the ability to see beyond them. Obsessing over our shortcomings can blind us to the inexhaustible treasury of grace that has been opened to us by Jesus' death on the cross; it can make us forget that because Jesus "himself was tested through what he suffered, he is able to help those who are being tested" (Heb 2:18). If we allow ourselves to be consumed with regret for our sins, we also risk blunting our resolution to amend our lives. This essential part of repentance looks not to the past but the future.
St. John Henry Newman, in a sermon preached in the 1830s, once urged his congregation to "mount up from the grave of the old Adam" and rise with Christ. "See," Newman exhorted his listeners, Christ "offers you his hand; He is rising; rise with Him." Let us remember—not only in this season of Lent but always—that in order to grasp Jesus' hand we must look upward, not downward. If we are to rise with him, we must look forward, not backward.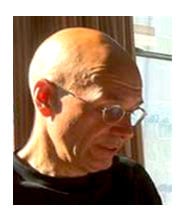 Michael DiMassa, PhD, is the Director of Library Collection Services at Yale University and serves as an editor of LRSS materials. Mike is also a student in the Archdiocese of Hartford's Catholic Biblical School. Mike lives in Milford, Connecticut, with his wife Donna.