The New Year is always filled with resolutions: "This year, I'm going on a diet!" or "I'm going to exercise more!" or "I'm going to pray more!" Our intentions are always good. But of course, these new resolutions often don't last all year.
Fortunately for us Catholics, the church has created at least one way to keep us on track with a sort of spiritual resolution: the cycle of readings. We've just completed Year C (2019), which means (you guessed it!) now we are back to Year A. During Year A, the Gospel of Matthew plays a central role at Sunday Mass.
Now I know most of us didn't necessarily "resolve" to read through the Gospel of Matthew in 2020. But by attending Mass and hearing the Sunday Gospel readings this year, we'll all accomplish just that.
So what are some things to watch and listen for as we walk through this "Year with Matthew's Gospel"? How is Matthew's Gospel unique?
First, Matthew's Gospel was originally written for a group of Jewish Christians. This means that rather than focusing on things that would make more sense to Gentiles, Matthew's Gospel focuses on things that hit home to an audience with Jewish roots. Notice how often the Sunday Gospel refers to topics such as the fulfillment of Old Testament prophesies; the Law, the prophets, and Moses; the hypocrisy of the Pharisees; or the central importance of Jerusalem and the temple. None of this is by accident. Rather, it is intended to explain to Matthew's audience (and now to us) how Jesus is the fulfillment of all that Yahweh promised throughout the Old Testament. Matthew sheds light on how Jesus is the "new and everlasting covenant" between God and his people.
Second, Matthew's Gospel seeks to emphasize the divinity of Jesus. In early Christian communities, there was a lot of debate about whether Jesus was only human, or only divine, or some combination of both. Some of the earliest ecumenical councils were convened to debate precisely these points—and our creeds reflect those debates! Matthew's Gospel wants readers to know that Jesus really is divine. So keep an eye out for references to Jesus as "Son of God" or as Emmanuel ("God is with us"); stories that highlight Jesus' close connection to the Father; or stories that emphasize Jesus' divinity.
Third, it is helpful to know that Matthew's Gospel is really composed of several little "books." For example, there are five discourses where Jesus covers distinct themes: the Sermon on the Mount (chapters 5–7); the missionary discourse (chapter 10); the parables discourse (chapter 13); the discourse on the church (chapter 18); and the eschatological ("last things") discourse (chapters 24–25).
When you hear from Matthew's Gospel in the Sunday readings, ask yourself exactly where that particular passage appears in the larger structure of the gospel. And then ask yourself, what's going on in this broader part of Matthew's Gospel? Knowing the bigger picture won't just give the passage more personal meaning. It will help the entire story of Jesus Christ unfold for you, through Matthew's eyes, over the course of the year.
Finally, on a personal note, Matthew may well become one of your favorite gospels (and I don't say that just because it bears my name!). There is a reason why, over time, the church came to list Matthew first in the canonical ordering of the Gospels. Yes, it has long been tradition that Matthew was the first Gospel written (although most modern scholars tend to reject this notion in favor of Mark). But more importantly, the earliest Christian communities naturally gravitated to Matthew as the most complete, accessible, and organized of all the Gospels. For this reason, Matthew is the most frequently-quoted Gospel in early Christian literature.
You won't necessarily get a sense of the full, fluid composition of Matthew's Gospel from the Sunday Mass readings. That's why it's important to pick up a Bible and see where that smaller passage proclaimed at Mass fits into the bigger picture of the entire Gospel. If you try that on a weekly basis, I promise that over the course of "Year A," Matthew's Gospel (and more importantly, the story of Jesus) will come alive in ways you haven't previously experienced. The Good News of Jesus Christ was not communicated to early converts piecemeal—one small passage, one week at a time. Rather, it was hearing and reading the entire arc of Jesus' story that drew people in and changed their lives.
We already know the story. But we can always enter into it at a deeper level. As the year unfolds, allow the church's focus on Matthew's Gospel to draw you more deeply into the bigger-picture story of Jesus Christ. What do you hear? What do you see? What is your role in this great story?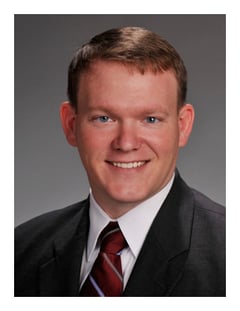 Deacon Matt Glover was born in Texas but grew up in Little Rock, Arkansas. He has an undergraduate degree in philosophy and theology from Loyola University, New Orleans; a graduate theology degree from the Pontifical Gregorian University in Rome; as well as degrees in both civil law and canon law. Matt now serves as Chancellor and general in-house counsel for the Diocese of Little Rock, and is a permanent deacon. He and his wife Brooke have two beautiful children. Matt is the author of the Little Rock Scripture Study title New Beginnings in our Alive in the Word series.